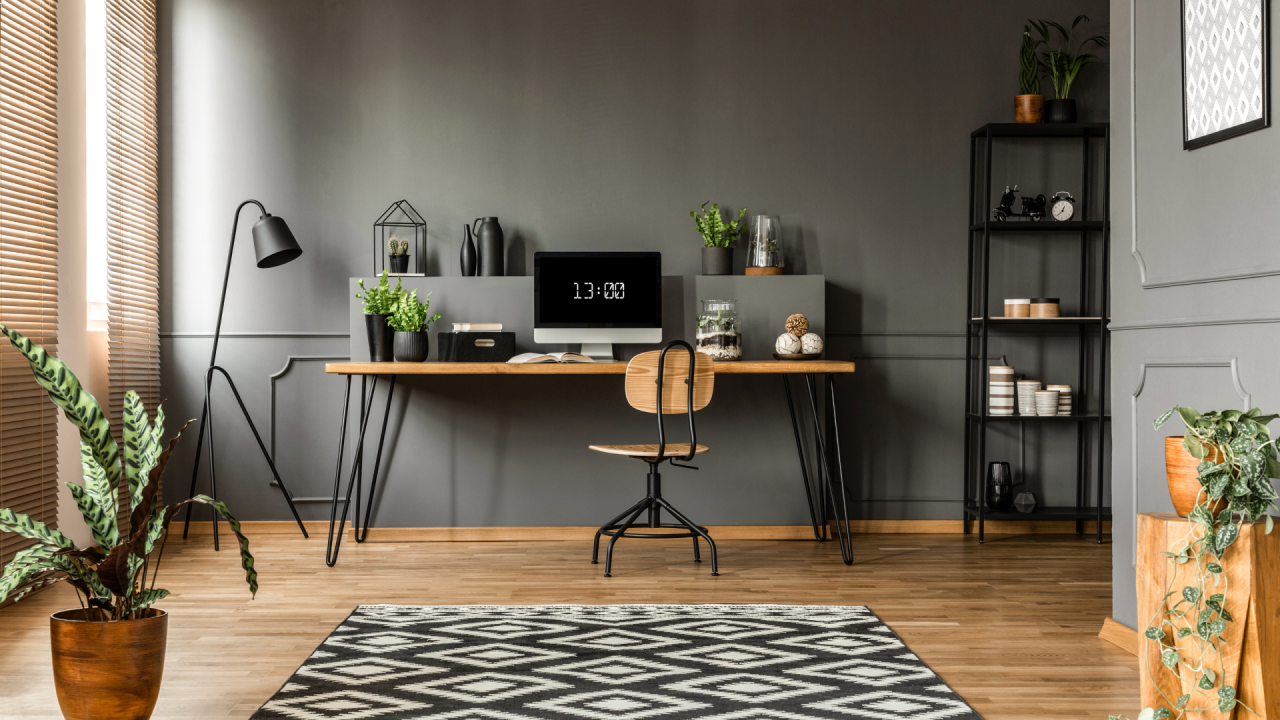 Home office furniture is a growing market which has been fuelled by recent trends that have seen more and more people taking up hybrid jobs or working from home full-time. To maintain a healthy work-life balance they are repurposing smaller bedrooms with the intention of turning them into studies. A well-furnished home office space can increase productivity levels and improve overall satisfaction with remote work.
Given the varying sizes of properties, not everyone can accommodate a dedicated study room at home. In such cases, placing a desk in a designated productive area can still make a significant difference. However, if you are tasked with furnishing an entire study for your clients, these are some important things to take into consideration.
The desk is undeniably the most crucial piece of furniture in any office, as it gets the most use and serves as the main focal point of the space. A functional home office cannot be complete without a well-designed desk. When creating the room layout, it's essential to consider how the desk will be laid out and how it will enhance the overall aesthetics. One excellent option is the elegant Bali Desk. Its dark brown hue gives a touch of biophilic presence to the room. The wide worktop offers ample space to accommodate a laptop and a pair of monitors. Additionally, the desk features a shelf for keeping office essentials, promoting an uncluttered and organised workspace.
The Bali desk, while practical, only offers enough space for some office essentials. If a client requires more storage for their study investing in a chest of drawers like our Calla Narrow Chest becomes essential. It comes with five compartments, providing generous amount of space and individual organisation possibilities. Its narrow design allows it to fit easily into smaller spaces, making it suitable for various sizes of home offices. It complements the natural aesthetic of the Bali Desk and offers space on top for adding a plant, which is the ideal decorating option for injecting some dynamism into the workspace.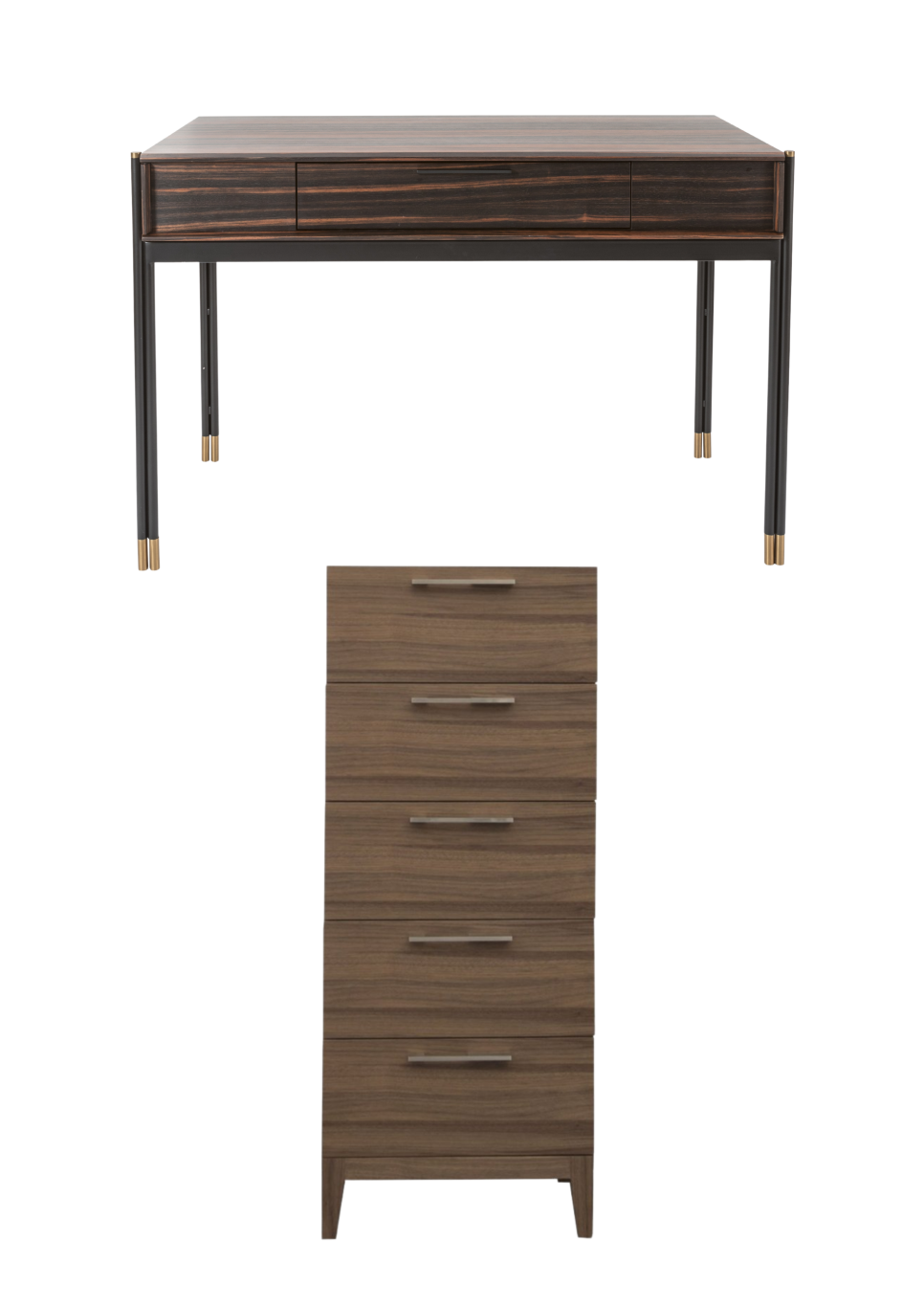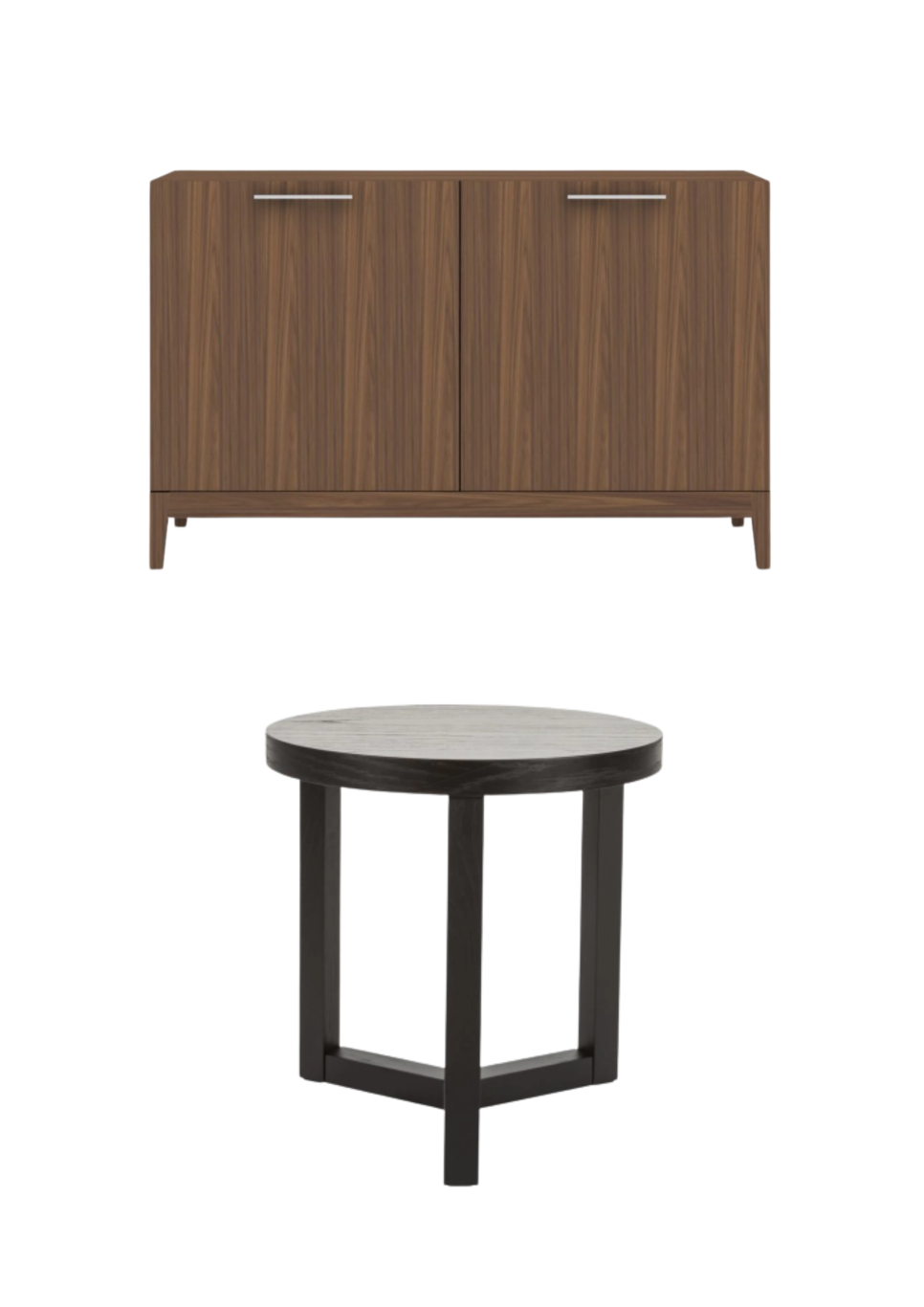 A sideboard can be a storage alternative for more spacious home offices. Our Peony sideboard is a fantastic option for this purpose, offering ample space inside and additional storage on top. With a pair of bookends, its surface can be used for displaying relevant books. It can also be decorated with personal items that will give the office space some unique charm and make it feel more cosy. Allowing your clients to customise their home office like that goes a long way to creating a pleasant environment that they can feel comfortable in.
A lamp table can be placed by the desk to serve as an extra space for documents and notes – the Iris Lamp Table stays in line with the natural, woody aesthetic of our suggestions so far. If it is not needed for office storage it can be used as a space for a plant or a night lamp. Lighting is an important aspect of an office and it is good to provide your clients with different light sources to choose from. A mellow night lamp can act as an accent piece, while also allowing clients to adjust the ambience of the room, creating a well-lit and inviting workspace.
In addition to the desk and storage options, seating is another crucial aspect of a home office. Your clients will likely spend extended periods sitting in their study, so they need an office chair that remains comfortable for long periods, as well as durable and hard-wearing. Our recommended choices are the Holly and Lotus chairs, both lightweight and sturdy. Their firm-soft padding ensures a relaxing sitting experience during work hours.
Adding an extra, occasional seating option like our Ross armchair would be a much-appreciated final touch. It is generously padded and upholstered in woolly boucle fabric which will add softness to the home office. Sometimes, taking a short break from the desk to stretch and move to a different place can help maintain focus and productivity. The occasional armchair serves as the perfect piece to facilitate such moments. It creates a relaxing corner in the study where clients can read documents, write emails, or simply take a break away from the desk. It can be paired with a second lamp table with a night lamp for reading, turning the space into a fantastic nighttime nook.