Prepare for the advent of summer by adding a touch of tropical flair to your catalogue. We are thrilled to highlight our Elder collection, which beautifully captures the essence of summer and nature through its elegant use of rattan. This distinctive feature completes the products' appearance but also imparts a captivating boho-chic touch to their overall design. These pieces can seamlessly blend in with diverse interior styles thanks to their modern aesthetics, making them a versatile choice for any setting.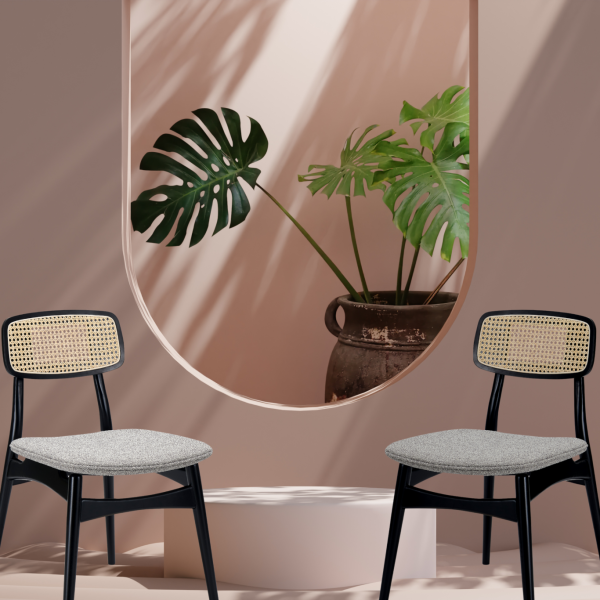 Boho is a style of furniture that traces its origins back to 19th-century Paris. It became popular with painters, performers and poets – those members of society who valued inspiration and creativity more than affluence. To this day, it is used as a way to add a touch of frivolity and artistry to spaces. What makes boho design recognisable is its use of vibrant colours and wicker weaves.
The incorporation of rattan in the construction of our Elder products lends them a touch of boho charm, while their dark wooden frames make them an ideal fit for any bohemian-inspired room. Each one of them range has its own distinctive weave of rattan that differentiates it from its counterparts. To show their utility we've thought up an example of what a house might look like furnished with them – which rooms they fit in and what other furniture goes well with them.
The Elder Dining chair is ideal for adding a hint of chic and levity to a dining room. Its backrest is made with open-weave rattan which lets air and light through, giving the item a breezy, summery quality. The rattan contrasts beautifully against the black ash frame of the chair and its grey steel upholstery, creating a playful atmosphere. The weave harkens back to the natural roots of the chair, giving it a raw, authentic look. The Lotus dining table would be a perfect pairing option for the Elder chair. The two pieces complement each other and can serve as a focal point of a naturalistic dining room.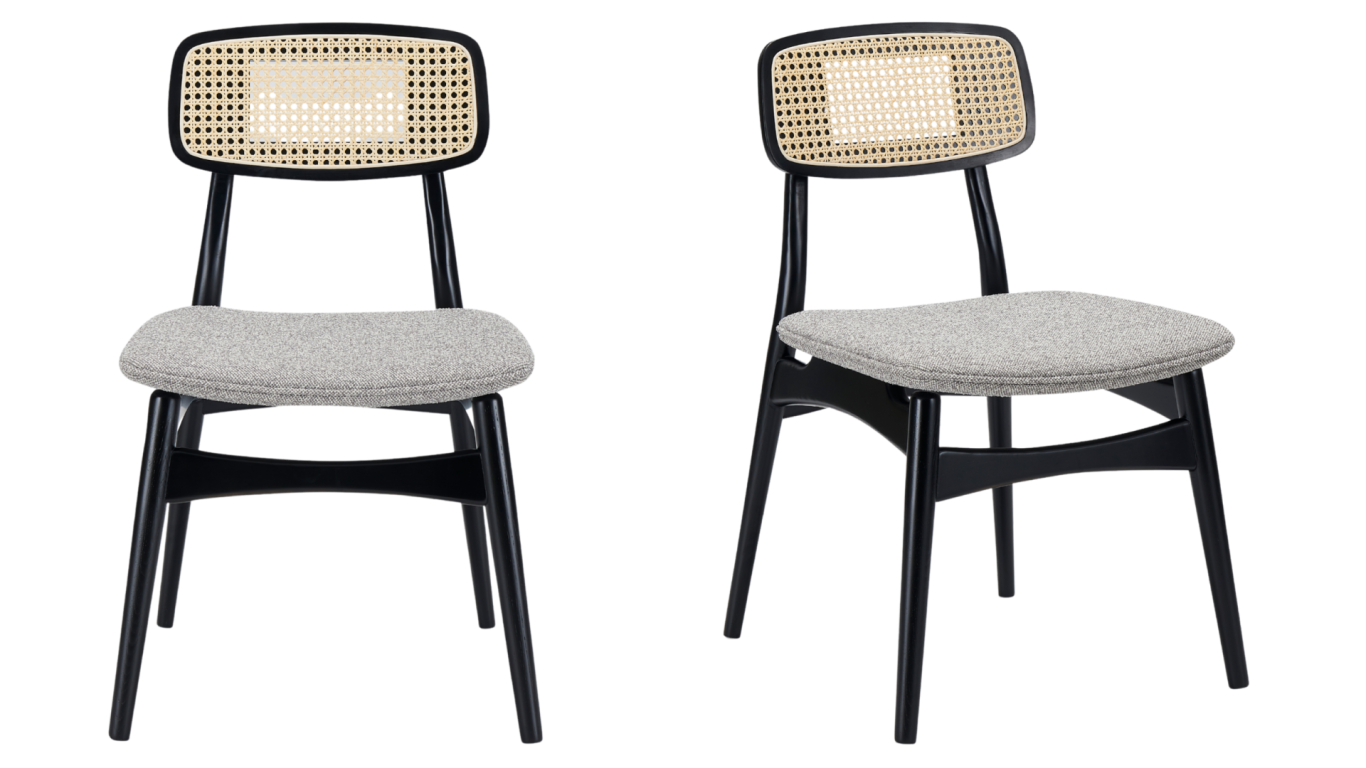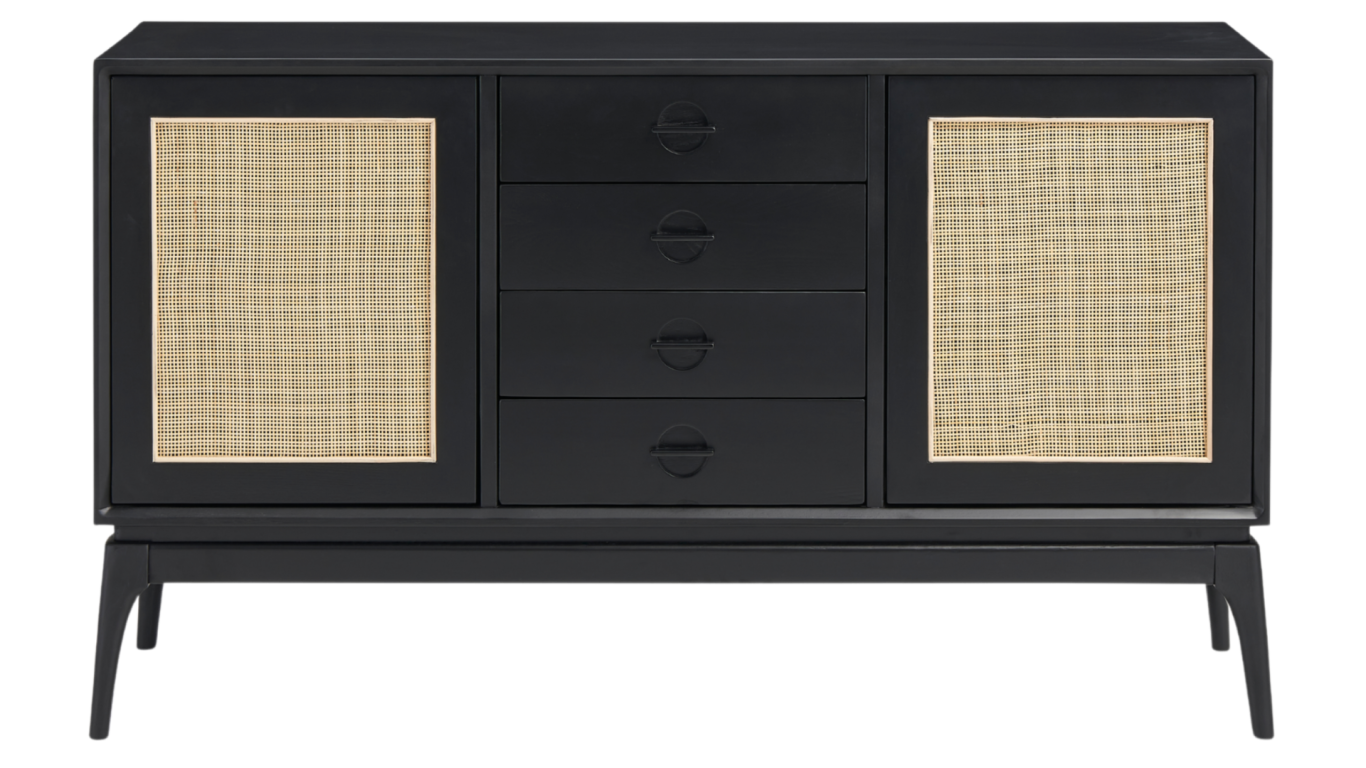 With its darker shade, the Elder Sideboard could bring harmony and balance to a vibrant living room. The juxtaposition of the woven-weave rattan of the cabinet doors with the minimal, boxy design of the rest of the frame, gives this sideboard a retro look. It adds much-needed style to a piece of furniture that is overall designed for functionality. For a bohemian living room consider pairing the Elder Sideboard with a jute rug and leafy plants. The Phoebe armchair could be added to complete the aesthetic and turn the place into a space for creativity.
To bring the entire flat together, we have saved the Elder Bench for the bedroom, although its versatility allows it to seamlessly fit in any space. Crafted with contrasting black ash and natural rope weaves, this bench immediately captivates with its unique character. Placed at the end of the bed or beneath the main window, it becomes a striking centrepiece. Its funky design infuses the room with dynamic energy. To complete the bedroom consider combining the Hibiscus Headboard and the Ben Round Stool. Together, they create a captivating contrast against the room's edges, adding depth and visual interest to the space.